WAN SDN
In today's fast-paced digital world, organizations constantly seek ways to optimize their network infrastructure for improved performance, scalability, and cost efficiency. One emerging technology that has gained significant traction is WAN Software-Defined Networking (SDN). By decoupling the control and data planes, WAN SDN provides organizations unprecedented flexibility, agility, and control over their wide area networks (WANs). In this blog post, we will delve into the world of WAN SDN, exploring its key benefits, implementation considerations, and real-world use cases.
WAN SDN is a network architecture that allows organizations to manage and control their wide area networks using software centrally. Traditionally, WANs have been complex and time-consuming to configure, often requiring manual network provisioning and management intervention. However, with WAN SDN, network administrators can automate these tasks through a centralized controller, simplifying network operations and reducing human errors.
Highlights: WAN SDN
WAN SDN is a modern approach to network management that uses a centralized control model to manage, configure, and monitor large and complex networks. It allows network administrators to use software to configure, monitor, and manage network elements from a single, centralized system. This enables the network to be managed more efficiently and cost-effectively than traditional networks.
SDN uses an application programming interface (API) to abstract the underlying physical network infrastructure, allowing for more agile network control and easier management. It also enables network administrators to rapidly configure and deploy services from a centralized location. This enables network administrators to respond quickly to changes in traffic patterns or network conditions, allowing for more efficient use of resources.
Scalability and Automation
SDN also allows for improved scalability and automation. Network administrators can quickly scale up or down the network by leveraging automated scripts depending on its current needs. Automation also enables the network to be maintained more quickly and efficiently, saving time and resources.
Before you proceed, you may find the following posts helpful:
Introduction to WAN SDN and what is involved.

Highlighting the challenges of a traditional WAN design.

Critical points on the rise of WAN SDN.

Technical details Internet measurements.
Back to Basics with WAN SDN
A Deterministic Solution
Technology typically starts as a highly engineered, expensive, deterministic solution. As the marketplace evolves and competition rises, the need for a non-deterministic, inexpensive solution comes into play. We see this throughout history. First, mainframes were/are expensive, and with the arrival of a microprocessor personal computer, the client/server model was born. The Static RAM ( SRAM ) technology was replaced with cheaper Dynamic RAM ( DRAM ). These patterns consistently apply to all areas of technology.
Finally, deterministic and costly technology is replaced with intelligent technology-using redundancy and optimization techniques. This process is now appearing in Wide Area Networks (WAN). Now, we are witnessing changes to routing space with the incorporation of Software Defined Networking (SDN) and BGP (Border Gateway Protocol). By combining these two technologies, companies can now perform  intelligent routing, aka SD-WAN path selection, with an SD WAN Overlay
A key point: SD-WAN Path Selection
SD-WAN path selection is essential to a Software-Defined Wide Area Network (SD-WAN) architecture. SD-WAN path selection selects the most optimal network path for a given application or user. This process is automated and based on user-defined criteria, such as latency, jitter, cost, availability, and security. As a result, SD-WAN can ensure that applications and users experience the best possible performance by making intelligent decisions on which network path to use.
When selecting the best path for a given application or user, SD-WAN looks at the quality of the connection and the available bandwidth. It then looks at the cost associated with each path. Cost can be a significant factor when selecting a path, especially for large enterprises or organizations with multiple sites.
SD-WAN can also prioritize certain types of traffic over others. This is done by assigning different weights or priorities for different kinds of traffic. For example, an organization may prioritize voice traffic over other types of traffic. This ensures that voice traffic has the best possible chance of completing its journey without interruption.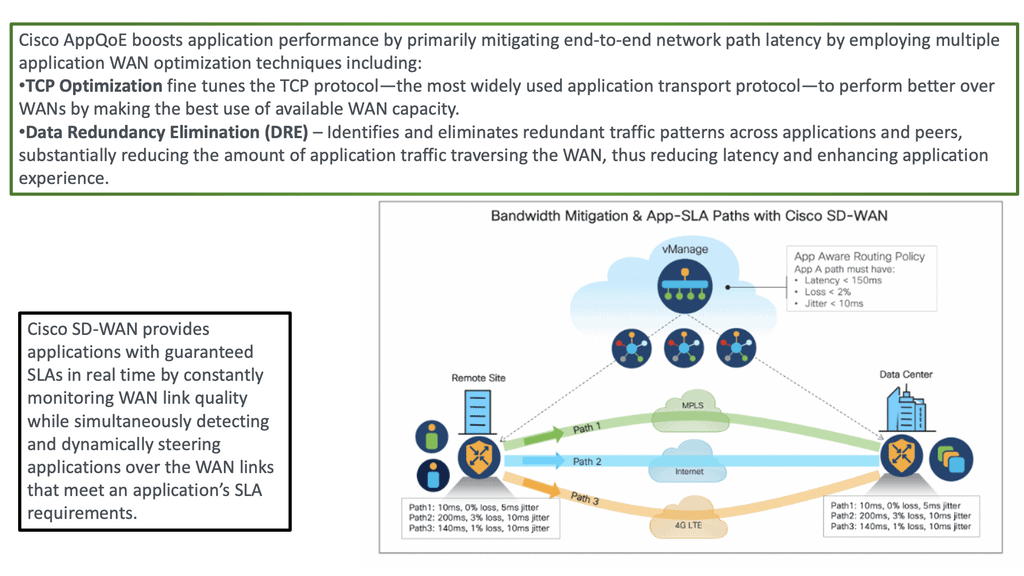 Back to basics with DMVPN
Wide Area Network (WAN) DMVPN (Dynamic Multipoint Virtual Private Network) is a type of Virtual Private Network (VPN) that uses an underlying public network, such as the Internet, to transport data between remote sites. It provides a secure, encrypted connection between two or more private networks, allowing them to communicate over the public network without establishing a dedicated physical connection.
Critical Benefits of WAN SDN:
Enhanced Network Flexibility:
WAN SDN enables organizations to adapt their network infrastructure to meet changing business requirements dynamically. Network administrators can quickly respond to network demands through programmable policies and automated provisioning, ensuring optimal performance and resource allocation.
Improved Network Agility:
By separating the control and data planes, WAN SDN allows for faster decision-making and network reconfiguration. This agility enables organizations to rapidly deploy new services, adjust network traffic flows, and optimize bandwidth utilization, ultimately enhancing overall network performance.
Cost Efficiency:
WAN SDN eliminates manual configuration and reduces the complexity associated with traditional network management approaches. This streamlined network management saves cost through reduced operational expenses, improved resource utilization, and increased network efficiency.
Critical Considerations for Implementation:
Network Security:
When adopting WAN SDN, organizations must consider the potential security risks associated with software-defined networks. Robust security measures, including authentication, encryption, and access controls, should be implemented to protect against unauthorized access and potential vulnerabilities.
Staff Training and Expertise:
Implementing WAN SDN requires skilled network administrators proficient in configuring and managing the software-defined network infrastructure. Organizations must train and upskill their IT teams to ensure successful implementation and ongoing management.
Real-World Use Cases:
Multi-Site Connectivity:
WAN SDN enables organizations with multiple geographically dispersed locations to connect their sites seamlessly. Administrators can prioritize traffic, optimize bandwidth utilization, and ensure consistent network performance across all locations by centrally controlling the network.
Cloud Connectivity:
With the increasing adoption of cloud services, WAN SDN allows organizations to connect their data centers to public and private clouds securely and efficiently. This facilitates smooth data transfers, supports workload mobility, and enhances cloud performance.
Disaster Recovery:
WAN SDN simplifies disaster recovery planning by allowing organizations to reroute network traffic during a network failure dynamically. This ensures business continuity and minimizes downtime, as the network can automatically adapt to changing conditions and reroute traffic through alternative paths.
The Rise of WAN SDN
The foundation for business and cloud services are crucial elements of business operations. The transport network used for these services is best efforts, weak, and offers no guarantee of an acceptable delay. More services are being brought to the Internet, yet the Internet is managed inefficiently and cheaply.
Every Autonomous System (AS) acts independently, and there is a price war between transit providers, leading to poor quality of transit services. Operating over this flawed network, customers must find ways to guarantee applications receive the expected level of quality.
Border Gateway Protocol (BGP), the Internet's glue, has several path selection flaws. The main drawback of BGP is the routing paradigm relating to the path-selection process. BGP default path selection is based on Autonomous System (AS) Path length; prefer the path with the shortest AS_PATH. It misses the shape of the network with its current path selection process. It does not care if propagation delay, packet loss, or link congestion exists. It resulted in long path selection and utilizing paths potentially experiencing packet loss.
WAN SDN with Border6 
Border6 is a French company that started in 2012. It offers a Non-Stop Internet, an integrated WAN SDN solution influencing BGP to perform optimum routing. It's not a replacement for BGP but a complementary tool to enhance routing decisions. For example, it automates changes in routing in cases of link congestion/blackouts.
"The agile way of improving BGP paths by the Border 6 tool improves network stability" Brandon Wade, iCastCenter Owner.
Customers wanted to bring additional intelligence to routing as the Internet became more popular. Additionally, businesses require SDN traffic optimizations as many run their entire service offerings on top of it.
What is non-stop internet?
Border6 offers an integrated WAN SDN solution with BGP that adds intelligence to outbound routing. A common approach when designing SDN in real-world networks is to prefer that SDN solutions incorporate existing field testing mechanisms (BGP) and not reinvent all the wheels ever invented. Therefore, the border6 approach to influence BGP with SDN is a welcomed and less risky approach to implementing a greenfield startup. In addition, Microsoft and Viptela also use the SDN solution to control the behavior of BGP.
Border6 takes BGP as a sort of guidance of what might be reachable. Based on various performance metrics, they measure how well paths perform. They use BGP to learn the structure of the Internet and then run their algorithms to know what is essential for individual customers. Every customer has different needs to reach different subnets. Some prefer costs; others prefer performance.
They elect several interesting "best" performing prefixes, and the most critical prefixes are selected. Next, they find probing locations and measure the source with automatic probes; to determine the best path. All these tools combined enhance the behavior of BGP. Their mechanism can detect if ISP has hardware/software problems, drops packets, or rerouting packets worldwide. 
Thousands of tests per minute
The Solution offers the best path by executing thousands of tests per minute and enabling results to include the best paths for packet delivery. Outputs from the live probing of path delays and packet loss inform BGP on which path to route traffic. The "best path" is different for each customer. It depends on the routing policy the customer wants to take. Some customers prefer paths without packet loss; others want cheap costs or paths under 100ms. It comes down to customer requirements and the applications they serve.
BGP – Unrelated to Performance
Traditionally, BGP is getting its information to make decisions based on data unrelated to performance. Broder 6 tries to correlate your packet's path to the Internet by choosing the fastest or cheapest link, depending on requirements.
They are taking BGP data service providers are sending them as a baseline. Based on that broad connectivity picture, they have their measurements – lowest latency, packets lost, etc.- and adjust the data from BGP to consider these other measures. They were, eventually, performing optimum packet traffic forwarding. They first look at Netflow or Sflow data to determine what is essential and use their tool to collect and aggregate the data. From this data, they know what destinations are critical to that customer.
BGP for outbound | Locator/ID Separation Protocol (LISP) for inbound
Border6 products relate to outbound traffic optimizations. It can be hard to influence inbound traffic optimization with BGP. Most AS behave selfishly and optimize the traffic in their interest. They are trying to provide tools that help AS optimize inbound flows by integrating their product set with Locator/ID Separation Protocol (LISP). The diagram below displays generic LISP components. It's not necessarily related to Border6 LISP design.
LISP decouples the address space so you can optimize inbound traffic flows. Many LISP uses cases are seen with active-active data centers and VM mobility. It decouples the "who" and the "where," which allows end-host addressing not to correlate with the actual host location. The drawback is that LISP requires endpoints that can build LISP tunnels.
Currently, they are trying to provide a solution using LISP as a signaling protocol between Border6 devices. They are also working on performing statistical analysis for data received to mitigate potential denial-of-service (DDoS) events. More DDoS algorithms are coming in future releases.
Conclusion:
WAN SDN is revolutionizing how organizations manage and control their wide area networks. WAN SDN enables organizations to optimize their network infrastructure to meet evolving business needs by providing enhanced flexibility, agility, and cost efficiency.
However, successful implementation requires careful consideration of network security, staff training, and expertise. With real-world use cases ranging from multi-site connectivity to disaster recovery, WAN SDN holds immense potential for organizations seeking to transform their network connectivity and unlock new opportunities in the digital era.