SASE | SASE Solution
In this post, we will decompose the Zero Trust SASE, considering the SASE fabric and what a SASE solution entails. The SASE security consists of global PoPs. With network and security functions built into each PoP operated with a single management plane. This post will examine the fabric components while discussing the generic networking and security challenges that SASE overcomes, focusing on Cisco SASE.
The Cisco SASE definition is often deemed just Cisco Umbrella; however, that is just part of the solution. Cisco SASE includes the Umbrella but entails an entirely new architecture based on the CSP 5000 and Network Function Virtualization (NFV) and a series of Virtual Network Functions (VNFs) such as virtual firewalls. We will touch on Cisco SASE soon.
As the SASE solution has a lot of dependencies, you, as an enterprise, know how far you are in your cloud adoption. If you are a public cloud first, hybrid, multi or private cloud path, it affects the design of where you have your DMZ. SASE security is all about optimizing the DMZ to enable secure designs.
The DMZ: Calling a SASE Solution
First, the SASE architecture is taking the DMZ architecture today and updating this architecture that has not been changed since the mid 90. The DMZ, often called the perimeter network, is a physical or logical subnetwork whose sole purpose is to expose an organization's external-facing services to untrusted networks.
Introduction to old DMZ and its drawbacks.

The role of perfecting the DMZ and a SASE solution.

SASE solution components.

The old data center design and issues.

Challenges and how SASE overcomes these.

Example SASE Solution: Cisco SASE.
The DMZ adds a layer of security so that external networks, potentially insecure, can only access what is exposed in the DMZ. At the same time, the rest of the organization's network is protected by a security stack. The DMZ is considered a small, isolated network portion and, if configured correctly, will give you extra time to detect and address breaches, malware, and other types of attacks before they would further penetrate the internal networks. 
The critical factor here is that it's a layer that, at best, gives you additional time before the breach to the internal network. The central pain point with the current DMZ architecture is that the bad actor knows it's there unless you opt for zero trust single packet authentication or some other zero-trust technology. This post will examine how SASE can secure and update the DMZ to align with the current trends. Those which we will discuss in this post.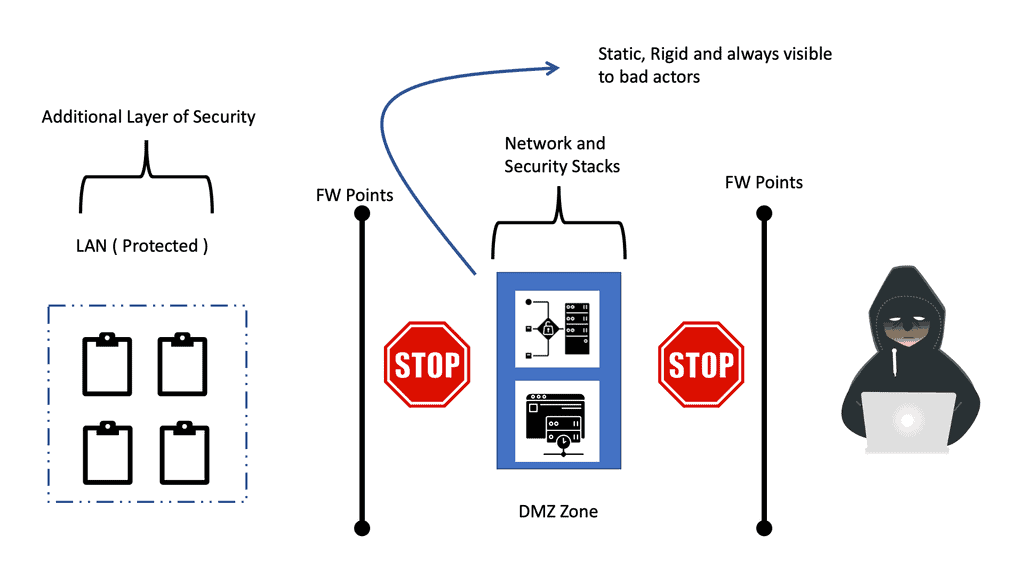 A key point: SASE security and SD-WAN
Similar to updating the WAN edge with SD-WAN to optimize performance per application with SDWAN overlays. Both SASE and SD-WAN are updating, let's say, the last hardware bastions in your infrastructure. SD-WAN with the WAN edge and SASE with the DMZ. The DMZ is a vital section but needs to be secure not just from a perimeter firewall with a port but more a less what traffic flow we have, along with good visibility with the ability to detect and attack and then respond appropriately. Reaction time needs to be quick. Speeds that can only be achievable with secure automation.
A perfect DMZ: SASE Solution
So these new DMZ designs need to be open. It must support API and open standard modeling languages such as XML and YANG. This will allow you to support various network and security devices, physical, virtual, and hybrid, via secure API. Not only does it need to be open, but it also needs to be extensible and repeatable. We can allow new functionality to be added and removed as the architecture evolves and react to dynamic business objectives.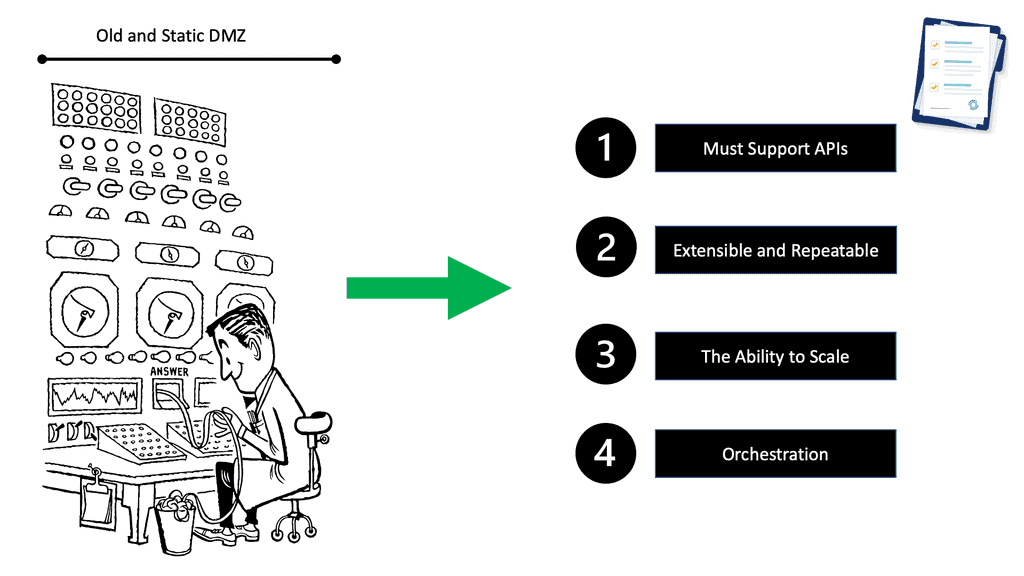 SASE also needs to be able to scale up and down, out and in, will little or no disruption to existing services. It should be able to scale without adding physical appliances. You can only scale so far with physical devices. The SASE solution needs Network Function Virtualization ( NFV ) with a series of Virtual Network Functions (VNFs) chained together. Cisco CSP 5000 can be used here, and we will discuss it in just a moment.
You want to avoid dealing with the CLI of the device. So the new SASE fabric needs to have good programmability. So all functional elements of the architecture are fully programmable via API.
The APIs cannot just read data but can change behavior, such as network device configurations. So you will need an orchestrator for this. Ansible tower could automate and manage configuration drift among the virtual network functions. Ansible tower provides end-to-end team automation with good features such as workflow templates and integration into the CI/CD pipelines.
SASE Security and SDN
Network segmentation is essential to ensure that the data and control plane traffic are segmented. So control plane configures the devices, and the data plane forwards the traffic. The segmentation aspect soul does not impede the scalability and performance of resolutions. To manage SASE security, you will need to employ software-defined networking principles. The SDN controller is not in the forward path. It just setups the data plane. And the data plane should operate even if the control plane fails. However, the control plane could have some clustering to avoid failure.
Standard Data Center Design
There will be the consumers of services. So, they can be customers, remote users, partners, and branch sites. These consumers will have to access applications, and these applications are hosted in the network or cloud domain. The consumers will typically have to connect to a WAN edge for applications hosted in the network. On the other hand, if consumers want to connect to cloud-based applications, they can go direct to, let's say, IaaS or the more common SaaS-based applications. Again, this is because access to cloud-based applications does not go via the WAN edge.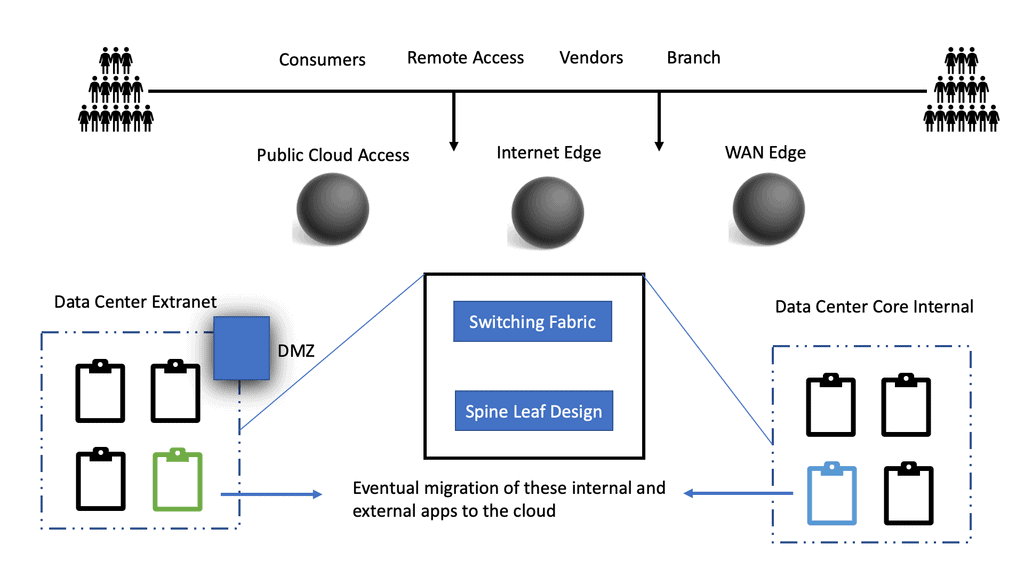 For consumers to access network applications not hosted in the cloud, as discussed, they are met with the WAN edge. Traffic will need to traverse the WAN edge to get to the application, which will have another layer of network and security functionality deeper in the network.
At the edge of the network, we have a lot of different types of network and security functionality. So we will have standard routers, a WAN optimization controller, Firewalls, Email Gateways, Flow collectors, and other types of probes to collect traffic.
Then, a network will have switching fabric. So, the old days of the 3-tier data Center architecture are gone. Now, all primary switching fabrics or switching fabrics that you want IP forwarding to scale are based on the spine leaf architecture, for example, the Cisco ACI with ACI networks. The ACI Cisco has good Multi Pod and Multi-Site capabilities.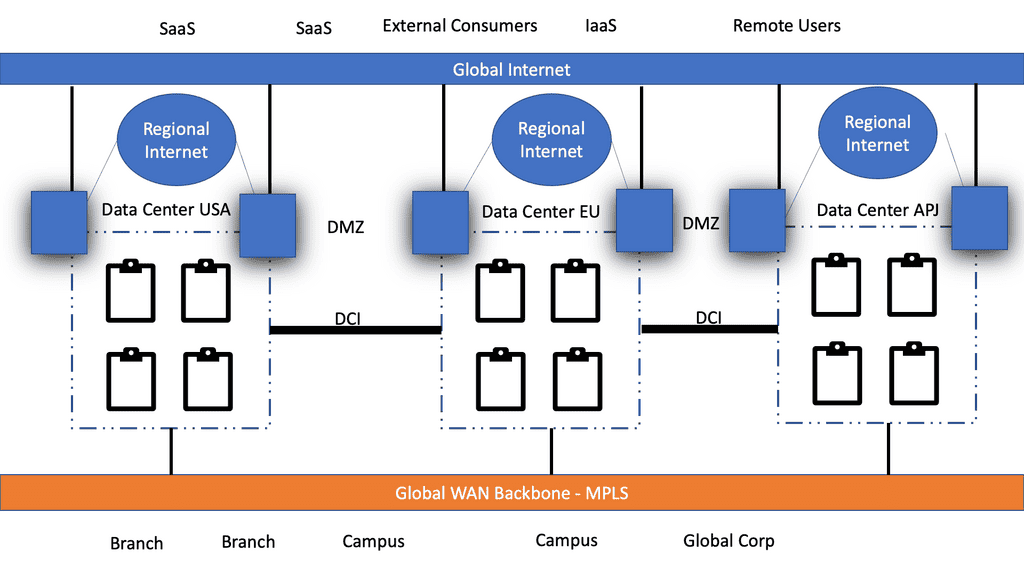 Then we go deeper into the applications and have the app tier access. So we application hosted Internet all by internal users. Each one will have its security, forwarding proxy devices, and load balancers. All these are physical wires to the fabric that will have a limit of capacity.
For global data center design. These will commonly connect over MPLS, which provides the Global WAN. Each data center would connect to an MPLS network and will usually be grouped by regions such as EMEA or AMERICAS. So we have distributed networks—the MPLS network label switches. You can also have Segment Routing to provide this global WAN, which provides better traffic engineering.
So, we have had some common trends that have challenged parts of this design. Many of these trends have called for introducing a new network area called the SASE fabric, commonly held in a CNF or a collocation facility. That has all the physical connectivity and circuits already laid out for you.
Common Trends: SASE Architecture
In a cloud-centric world, users and devices require access to services everywhere. These services are now commonly migrated to SaaS and IaaS-based clouds. So we have an app migration from "dedicated" private to "shared" public cloud. These applications became easy to change based on a microservices design. So the growth was rapid, and now you needed to secure workloads in a multi-tenant environment.
A key point: Identity is the new perimeter
As a result, the focal point has changed considerably. Now it is the identity of the user and device, along with other entities around the connection group, as opposed to the traditional model focusing solely on the data center. Identity then becomes the new perimeter. 
Another major trend is the capacity requirements, and bandwidth to the public clouds doubled. Now that applications are hosted in the cloud, we also need to make changes on the fly to match the agility of the cloud. When migrating these applications, we must rapidly, for example, upgrade internet-facing firewalling due to remote user access demands. Also, security teams demand IPS/AMP appliance insertions. In a cloud environment, it'sit's up to you to secure your workloads, and you need to same security levels in the cloud as you would on-premises.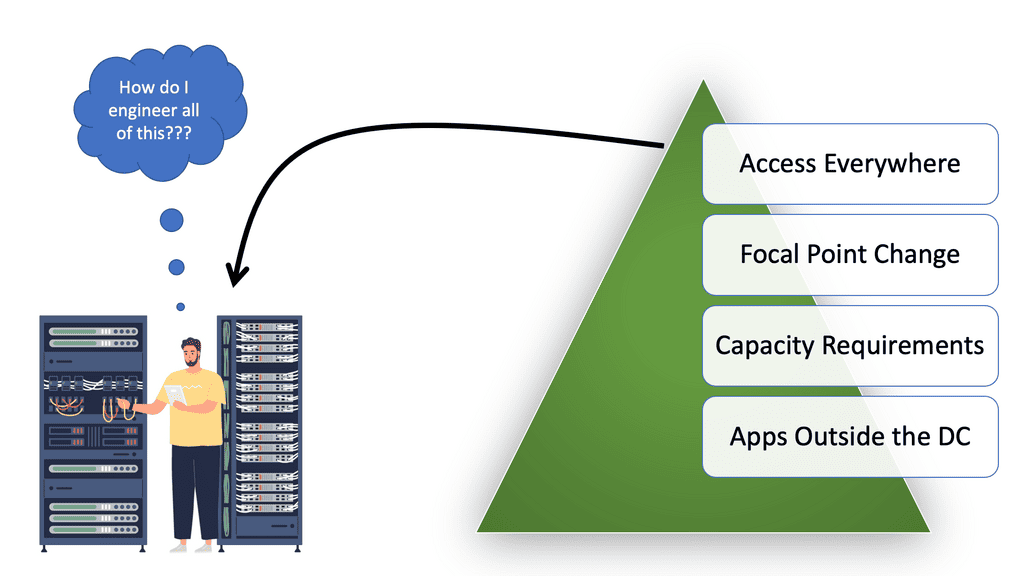 These apps are not in our data center, so we need to ensure that these migrated applications have the same security policy that would be housed in the AWS or Azure clouds. So we need more services in the current infrastructure. Now we have more wiring and configuration, what is the impact on an extensive global network? So if you have a distributed application in several areas and want to open a port, let us say. These configurations need to be done and monitored in many places and with many teams.
So the internal data application is getting less important than what is running in the public clouds. More apps are in the cloud, and the data center is becoming less important as the prime focal point. The data center will always be retained, but the connectivity and design will change with introducing of a SASE solution.
SASE Security
Many common problems challenge the new landscape. Due to deployed appliances for different technology stacks for networking and security, not to mention the failover requirements between them, we are embedded with high complexity and overhead.
It is a fact that the legacy network and security located in the DMZ designs increase latency. The latency is even with service chaining, but it will expand and become harder to troubleshoot. In addition, the world is encrypted. This needs to be inspected without degrading application performance.
These challenges are compelling reasons to leverage a cloud-delivered SASE solution. The SASE architecture is a global fabric consisting of a tailored network for application types typically located in the cloud: SASE optimizes where it makes the most sense for the user, device, and application – at geographically dispersed PoPs. And many will connect directly to a Colocation facility that can hold the SASE architecture.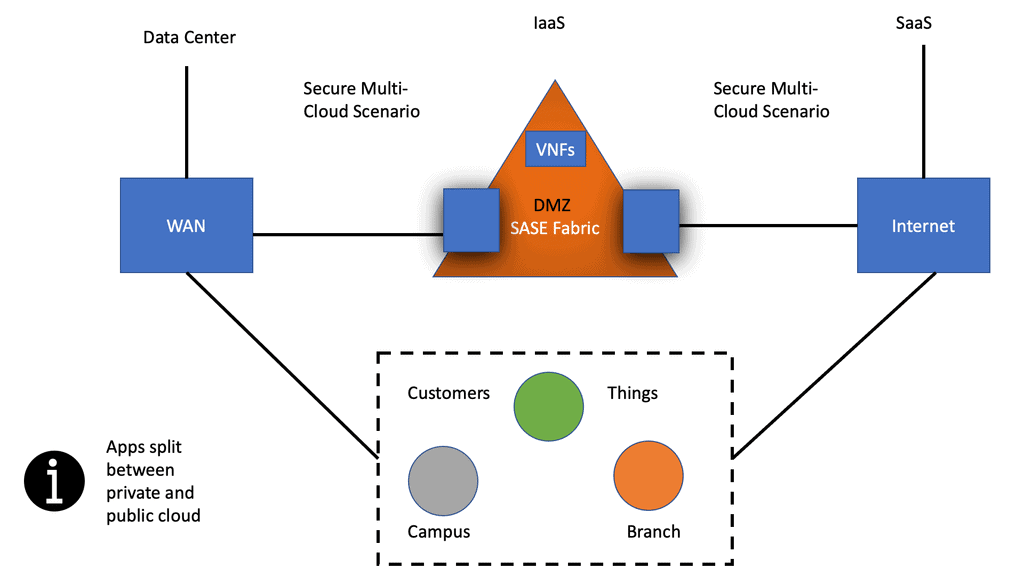 So the significant architecture changes to what you have seen in the past are that the consumers, remote users, customers, branches, and partners will connect to the WAN edge, Internet, or IaaS via a Colocation facility. Circuits migrated from the data center to selected "central hubs" connectivity and colocations sites. The old DC will become another application provider connecting to the colocation. Before addressing what this collocation looks like, we will address the benefits of redefining the network and security architecture. Yes, adopting SASE reduces complexity and overhead, improves security, and increases application performance, but practically, what does that mean?
Challenges: Complexity and Overhead
 Problems with complexity/overhead/processing/hardware-based solutions
Traditional mechanisms are limited by the hardware capacity of the physical appliances located at the customer's site and the lag created for hardware refresh rates needed to add new functionality. Hardware-based network and security solutions build the differentiator of the offering into the hardware. With different hardware, you can accelerate the services and add new features.
Some features are available on specific hardware, not the hardware you already have onsite. In this case, heavy lifting by the customer will be required. As the environment evolves, we should not depend on the new network and security features from the new appliance generation. This inefficient and complex model creates high operational overhead and management complexity.
Device upgrades for new features require a lot of management. For example, from experience, changing out a line card would involve multiple teams. For example, the line card ran out of ports, or you need additional features from a new generation. 
This would involve project planning, onsite engineers, design guides, hopefully, line card testing, and out-of-hours work. For critical sites to ensure successful refresh, team members may need to be backed up. Many touches need to be managed.

SASE Security Response:
SASE  architecture overcomes tight coupling/hardware-based solutions.
The cloud-based SASE enables updates for new features and functionality without requiring new deployments of physical appliances. So there will need to be a physical appliance, but this physical appliance can host many virtual networks and security functions. This has an immediate effect on ease of management. The network and security deployment can now occur without ever touching the enterprise network. This allows enterprises to adopt new capabilities quickly. Once the tight coupling between the features and the customer appliance is removed, we have increased agility and simplicity for deploying network and security services.
Cisco SASE: Virtualization of Network Functions
With a Cisco SASE platform, when we create an object, such as the virtualization of Network Functions. The policy in the networking domain is then available in other domains, such as security. Network function virtualization is familiar, where we de-couple software from hardware. This is often linked to automation and orchestration, where we focus on simplifying architecture, particularly on Layer 4 – Layer 7 services. Virtual Machine hosting enabled the evolution and variety of virtualized workloads. The virtualization of network and security functions allows you to scale up-down and in and out at speed and scale without embedding service.
Cisco SASE: Network Functions Examples
Let's say you have an ASAv5 as a virtual appliance. This virtual appliance has, for example, 1 Core. If you want more cores, you can scale up to support ASA v50, which supports eight cores. So we can scale up and down. However, what if you want to scale out? Here we can add more cloud service providers and ASAv, so we are scaling out virtual firewalls with Equal Cost Multipath load balancing. You want to buy something other than a physical appliance that will only ever do one function. The days of multiple physical point solutions are ending as sase gains momentum. Instead, you want your data center to scale when capacity demands it without physical limitations.
For example, Cisco SASE architecture.
NFV, network services can be deployed and managed much more flexibly because they can be implemented in a virtualized environment using x86 computing resources instead of purpose-built dedicated hardware appliances. The CSP 5000 Series can assist you in making this technology transition. With NFV, the Cisco SASE open approach allows other vendors to submit their Virtual Network Functions (VNF) for certifications to help ensure compatibility with Cisco NFV platforms.
This central location is a PoP that could be a Cloud Services Platform that could provide the virtualized host. For example, the Cloud Services Platform CSP-5000 could host CSR, FTD, F5, AVI networks, ASAv, or any KVM base services. These network and security functions represent the virtual network appliances that consist of virtual machines. 
Cisco SASE and the CSP 5000
Within the Cisco SASE design, the CSP 5000 Series can be deployed within data centers, regional hubs, colocation centers, the WAN edge, the DMZ, and even at a service provider'sprovider's Point of Presence (PoP), hosting various Cisco and third-party VNFs. We are looking to install the CSP at a PoP, specifically in a collocation facility. If you examine the CSP-5000 for a block diagram, you will see that Cisco SASE has taken a very open ecosystem approach to NFV, such as Open vSwitch. 
It uses Single Root I/O Virtualization (SR-IOV) and an Open vSwitch Data Plane Development Kit (OVS-DPDK). The optimized data plane provides near-line rates for SR-IOV-enabled VNFs and high throughput with OVS DPDK interfaces.
The CSP has a few networking options. First, the Open vSwirch ( OVS) is the Software layer two switches for the CSP-500. So the CSP internal software switches bridge the virtual firewall to the load balancer to the ToR switches. Or you can use SR-IOV Virtual Ethernet Bridge Mode (VB), which will give better performance. As a third option, we have SR-IOV, virtual Ethernet Port Aggregators Mode (VEPA)
Cisco SASE Security Policies 
With this type of flexible design that Cisco SASE offers, any policies assigned to users are tied to that user regardless of network location. This removes the complexity of managing network and security policies across multiple locations, users, and devices. But, again, all of this can be done from one platform.

SASE Security Response:
SASE  architecture overcomes the complexity and heavy lifting/scale.
I recall from a previous consultancy. We were planning next year'syear's security budget. The network was packed with numerous security solutions. All these point solutions are expensive, and there is never a fixed price, so how do you plan for this? Some new solutions we were considering charge on usage models, which we needed the quantity at that time. So the costs keep adding up and up.
SASE removes these types of headaches. In addition, consolidating services into a single provider will reduce the number of vendors and agents/clients on the end-user device. So we can still have different vendors operating a sase fabric, but they are now VNF on a single appliance.
Overall, there will be substantial complexity savings from consolidating vendors and technology stacks, pushing this to the cloud away from the on-premises enterprise network. The SASE fabric abstracts the complexity and reduces costs. From a hardware point of view, the cloud-based SASE can add more PoPs of the same instance for scale and additional capacity. This is known as vertical scaling, and also, in new locations, known as horizontal scaling.
SASE overcomes the intensive processing.
Additionally, the SASE-based cloud takes care of intensive processing. For example, as a large proportion of internet traffic is now encrypted, malware can use encryption to evade and hide from detection.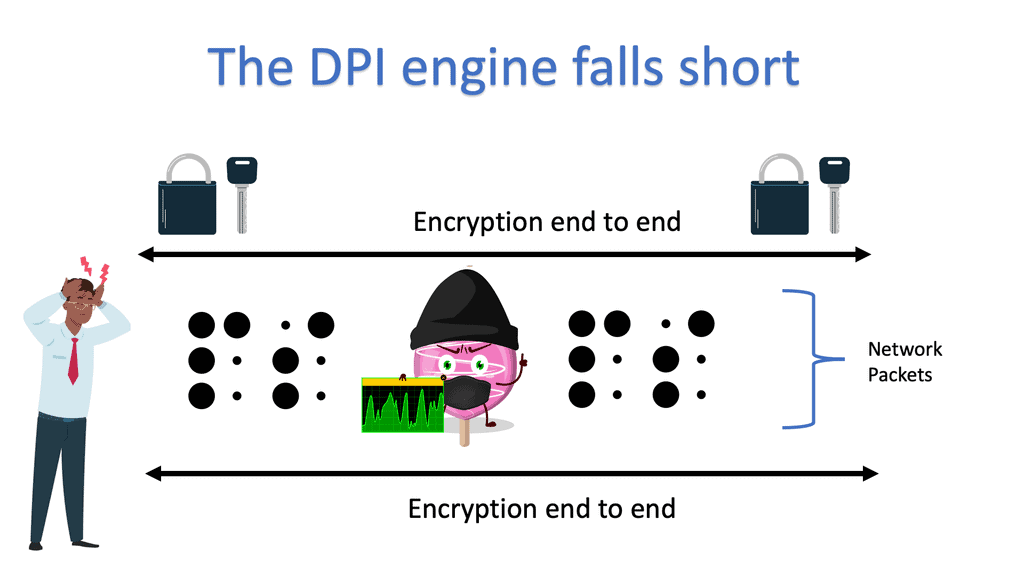 Here, each PoP can perform deep packet dynamics on TLS-encrypted traffic. You may not need to decrypt to understand the payload fully. Still, a lot can be understood by performing partial decryption and examining payload patterns to understand the malicious activity seems enough. The SASE vendor needs to have some Deep Packet Dynamic technologies.
Traditional firewalls are not capable of inspecting encrypted traffic. Therefore, performing DPI on TLS-encrypted traffic would require extra modules or a new appliance. A SASE solution ensures the decryption and inspection are done at the PoP, so there is no performance hit or the need for new appliances on the customer sites. And this can be done with Deep Packet Dynamic technologies.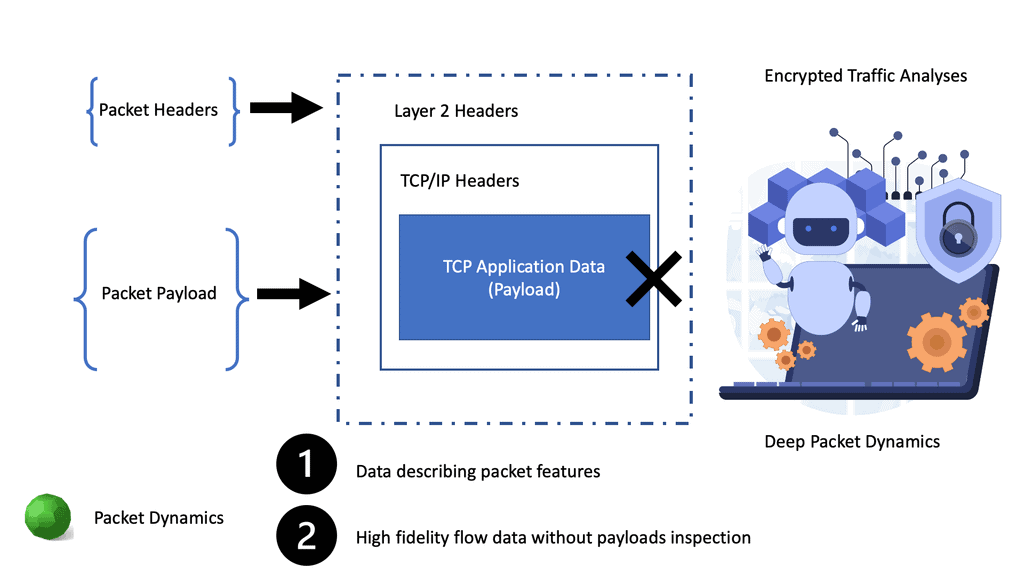 Challenges: PoP Optimizations: Performance
Problems with packet drops/latency
Network congestion resulting in dropped, and out-of-order packets are bad for applications. Latency-sensitivity applications such as collaboration, video, VoIP, and web conferencing are hit hardest by packet drops. Luckily, there are options to minimize latency and the effects of packet loss. SD-WAN solutions have WAN optimization features that can be applied on an application-by-application or site-by-site basis. Along with WAN optimization features, there are protocol and application acceleration techniques.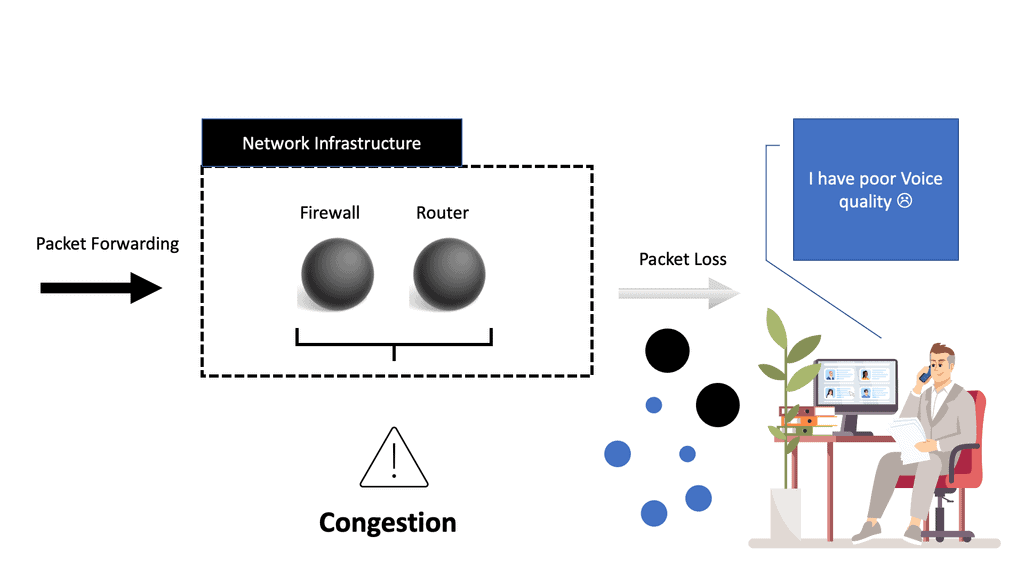 On top of existing techniques to reduce packet loss and latency, we can privatize the WAN as much as possible. To control the adverse and varying effects the last mile and middle mile have on applications is to privatize with a private global backbone consisting of a fabric of PoPs. Once privatized, we have more control over traffic paths, packet loss, and latency. A private network fabric is a crucial benefit gained from SASE as it drives application performance. So we have east-west and north-south traffic that can be inspected.
So now that we have a centralized fabric consisting of many hubs and spoke, it is easy to perform traffic engineering and improve performance. So when you centralize some of the architecture into a centralized fabric, it is easier to make traffic adjustments globally. The central hub will probably be a collocation facility and can be only one hop away. So the architecture is going to be more simple and easy to implement.
SASE Securtiy Response:
Discussing PoP optimization – Routing algorithms, TCP proxy.
Each PoP in the SASE cloud-based solution optimizes where it makes the most sense, not just at the WAN edge. For example, within the SASE fabric, we have global route optimizations to determine which path is best and can be changed for all traffic or specific applications. These routing algorithms factor in performance metrics such as latency, packet loss, and jitter. I am selecting the optimal route for every network packet. The WAN backbone is constantly analyzing and trying to improve performance. Unlike internet routing, which favors cost over performance.
A key point: Increasing the TCP Window size
As everything is privatized, we have all the information to create the largest packet size and use rate-based algorithms over traditional loss-based algorithms. As a result, you don't need to learn anything, and throughput can be maintained end-to-end. As each PoP acts as a TCP proxy server, techniques are employed so that the TCP client and server think they are closer. Therefore, a larger TCP window is set, allowing more data to be passed before waiting for an acknowledgment.
Challenge: SASE Security, Zero Trust
SASE converges the networking and security pillars into a single platform. This allows multiple security solutions into a cloud service that enforces a unified policy across all corporate locations, users and data. SASE recommends you employ the zero trust principles. The path to zero trust starts with identity in that network access is based on the identity of the user, the device, and the application. Not on the IP address or physical location of the device. And this is for a good reason. There needs to be contextual information.
The identity of the user/device must reflect the business context instead of being associated with binary constructs utterly disjointed from the upper layers. This binds an identity to the networking world and is the best way forward for policy enforcement. Therefore, the dependency on IP or applications as identifiers is removed. Now, the policy is applied consistently regardless of where the user/device is located, while the identity of the user/device/service can be factored into the policy applied. The SASE stack is dynamically applied based on identity and context while serving zero trust at strategic points in the cloud, enforcing an identity-centric perimeter.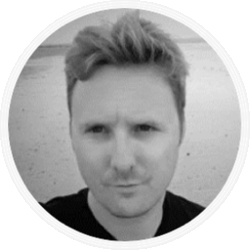 Latest posts by Matt Conran: The Visual Age
(see all)