BGP Software Defined Networking (SDN) with Border 6 : Non-Stop Internet
The source for this blog post is taken from Ivan Pepelnjak's Software Gone Wild Podcast on Commercial BGP SDN Solution – Border6.
Network Evolution
Technology typically starts as a highly engineered, expensive, deterministic solution. As the marketplace evolves and competition rises, the need for a non-deterministic, inexpensive solution comes into play. We see this throughout history. Mainframes were/are expensive and with the arrival of microprocessor personal computer the client/server model was born. The Static RAM ( SRAM ) technology was replaced with cheaper Dynamic RAM ( DRAM ). These patterns consistently apply to all areas of technology. Deterministic and costly technology is replaced with intelligent technology-using redundancy and optimization techniques. This process is now appearing in Wide Area Networks (WAN). Now, we are witnessing changes to routing space with the incorporation of Software Defined Networking (SDN) and BGP (Border Gateway Protocol). By combining these two technologies, companies can now perform intelligent routing. For additional information on technologies that benefit businesses, learn more here on the differences between intranets and extranet.
The Challenge
The foundation for business and cloud services are crucial elements of the business operation. Transport network used for these services is best efforts, weak, and offers no guarantee of acceptable delay. More services are being brought to the Internet, yet the Internet is managed inefficiently and cheaply. Every Autonomous System (AS) acts independent and there is a price war between transit providers, leading to poor quality of transit services. Operating over this flawed network customers must find ways to guarantee applications receive the expected level of quality. Border Gateway Protocol (BGP), which is the glue of the Internet has a number of path selection flaws. The main flaw of BGP is routing paradigm relating to path-selection process. BGPs default path selection is based on Autonomous System (AS) Path length; prefer the path with the shortest AS_PATH. It misses the shape of the network with its current path selection process. It does not care if propagation delay, packet loss or link congestion exists. Resulting in long path selection and utilizing paths potentially experiencing packet loss.
Border6 & Non-Stop Internet
Border6 is a French company that started in 2012. It offers a product called Non-Stop Internet, an integrated SDN WAN (SD-WAN) solution-influencing BGP to perform optimum routing. It's not a replacement for BGP but a complementary tool to enhance routing decisions. It automates changes in routing in cases of link congestion/blackouts.
"The agile way of improving BGP paths by the Border 6 tool improves network stability" Brandon Wade, iCastCenter Owner.
As the internet became more popular, customers wanted to bring additional intelligence to routing. Business require optimum traffic engineering as many run their entire service offerings on top of it.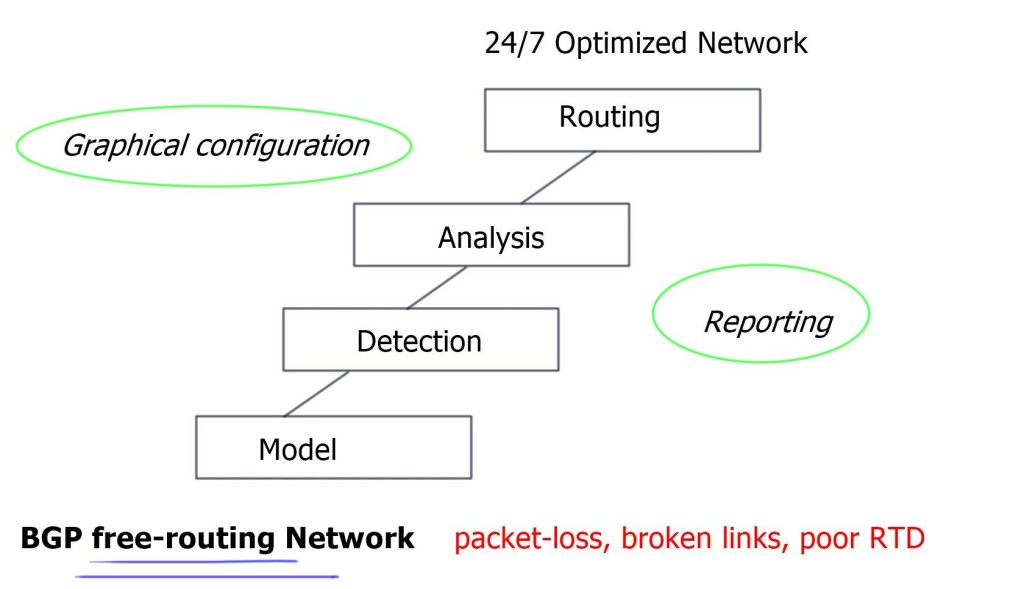 What is Non-Stop Internet?
Border6 offers an integrated SDN WAN solution with BGP that adds intelligence to outbound routing. When designing SDN in real-world networks, a common approach is to prefer SDN solutions that incorporate with existing field testing mechanism (BGP) and not to reinvent all the wheels every invented. Border6 approach to influence BGP with SDN is a welcomed and less risky approach to implement a green field startup. Microsoft and Viptela also use SDN solution to influence the behavior of BGP.
Border6 take BGP as a sort of a guidance of what might be reachable. Based on a variety of performance metrics they measure how; well, paths are performing. They use BGP to learn the structure of the internet and then run their own algorithms to learn what is important for individual customers. Every customer has different needs to reach different subnets. Some prefer costs, others prefer performance. They elect a number of interesting "best" performing prefix and the most important prefixes are selected. Next, they find probing locations and measure the source with automatic probes; determine the best path. All these tools combined, enhance the behavior of BGP.
Their mechanism can detect if ISP is having hardware/software problems, dropping packets or rerouting packets around the world. Having software testing put through on your system will help determine any problems that may cause issues now or in the future.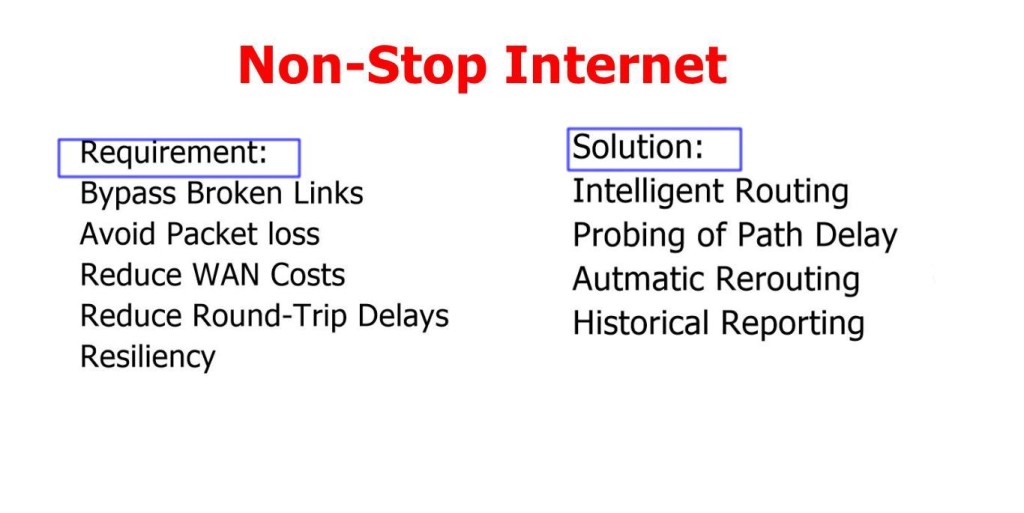 The Solution offers the best path by executing thousands of tests per minute. Enabling results to include the best paths for packet delivery. Outputs from the live probing of path delays and packet loss inform BGP, which path to route traffic. The "best path" is different for each customer. It depends on routing policy the customer want to take. Some customers prefer paths showing no packet loss, others want cheap cost or path under 100ms. It comes down to customer requirement and applications they serve. Traditionally, BGP is getting its information to make decisions based on data that is not linked to performance. Broder 6 are trying to correlate the path your packet will go out to the Internet by choosing the fastest possible link or the cheapest depending on requirements. They are taking BGP data service providers are sending them as a baseline. Based on that broad connectivity picture, they have their own set of measurements – lowest latency, packets lost etc and they adjust the data from BGP to take these other measures into account. Eventually, performing optimum packet traffic forwarding. They first look at Netflow or Sflow data to figure out what is important and use their own tool to collect and aggregate the data. From this data, they know what destinations are important for that customer.
BGP for Outbound | Locator/ID Separation Protocol (LISP) for Inbound
Border6 products relate to outbound traffic optimizations. It can be hard to influence inbound traffic optimization with BGP. Most AS behave in a selfish way and optimize the traffic in their own interest. They are trying to provide tools that help AS optimize inbound flows by integrating their product set with Locator/ID Separation Protocol (LISP).
The diagram below displays generic LISP components. It's not necessarily related to Border6 LISP design.
LISP decouple the address space so you can optimize inbound traffic flows. Many LISP uses cases are seen with active – active data centres and VM mobility. It decouples the "who" and the "where," which allows end host addressing not to correlate with actual host location. The drawback is that LISP requires endpoints that are able to build LISP tunnels.
Currently, they are trying to provide a solution that will use LISP as a signaling protocol between Border6 devices. They are also working on performing statistical analysis for data received to mitigate against potential denial-of-service (DDoS) events. More DDoS algorithms are coming in future releases.
For more information, check out Ivan Pepelnjaks, Software Gone Wild Podcast.